Belluno Sectional w/Bar, Bed and Recliner Chair - More Images and Dimensions
Belluno Sectional w/Bar, Bed and Recliner Chair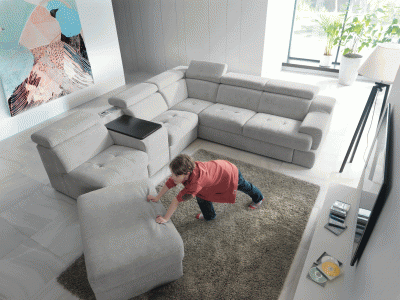 Big corner with movable pouf, bar element with wooden top , compartment and armchair with electric recliner
left/right.
Sleeping surface 190x126cm
Available in leather or fabric for Special Order.
The Belluno system furniture is a modern line of modular furniture that allows to design various sofa configurations that may have low pouffe-shaped movable add-on units at each end. This movable add-on unit can also function as a movable extended seating section. Sets configured from Belluno modular furniture may also be accessorised with liquor cabinets and, optionally, equipped with an audio system and cup holders.
Belluno system furniture utilise a very functional solution, i.e. a backrest and seat reclining system known as the relax function or TV function. Their angle can be smoothly regulated using electric sensors or manually – allowing you to rest in the position you find most comfortable by adjusting the backrest and footrest angle to the body position which you feel is the most comfortable for your at a given time.
View Larger Image